The Toy Fair is taking place right now at the Kensington Olympia in London! There are toys and games everywhere, with companies from across the world coming together to showcase their products and services!
One such company is Funko! The American company are known worldwide for their Funko Pop figurines, T-shirts and accessories. Over the past two days the company have made some huge announcements regarding the launch of new Pops in 2017.
Here are just a few of the huge collections unveiled this week!
90s Nickelodeon
If you're a 90s kid you are going to love this collection! Characters from hit Nickelodeon shows such as CatDog, Real Monsters and Rugrats are included in this super cool group of cartoon characters.
From the Real Monsters show we have Krumm, Oblina and Ickis. Meanwhile Rugrats is represented by Tommy Pickles, Chuckie Finster and their favourite toy, Reptar!
Have a peak at what this collection will look like by visiting the Funko website.
Tekken
Speaking of classics from the 90s, everyone's favourite arcade game, Tekken, is also getting its very own Funko Pop range. The Pops look absolutely amazing and feature high profile fighters such as Heihachi, Tekken King (my favourite), Jin Kazama, Nina Williams and Kazuya!
Tekken King and Kazuya are the pops that really stand out here! Kazuya looks great with his white fighter trousers, one red and one black eye along with his red boxing gloves.
See what the Tekken collection looks like on the Funko blog.
Space Jam
The nostalgia keeps on coming! This time it's the 1996 basketball movie Space Jam that's getting the Funko makeover. All of the main characters, well those in Looney Toon form at least, are getting a figure in the collection.
Pops include Bugs Bunny, Taz, Marvin the Martian, Swackhammer and M3, otherwise known as the Blue Monster.
See all of the Looney Toon Funko Pops right here!
Ratatouille
This is one for the children, although many adults will admit that they to enjoy the Disney movies and Pops as well!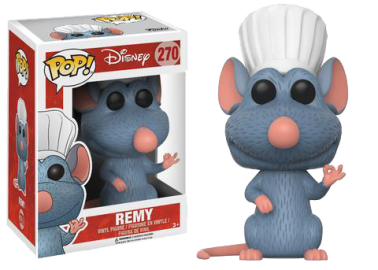 The movie included this time is Ratatouille. The 2007 smash-hit follows the story of Remy, an ambitious young rat who has a highly developed sense of taste and smell. He dreams of one day becoming a cook!
Remy is the star of this collection as well, seen posing in his little chef's hat! Remy's chef sidekick Alfredo Linguini is also included and looks hopeless in his chef coat and hat - whilst also holding a frying pan.
Remy's cheese-loving brother Emile is also included in this collection. The brown rat is seen munching on a block of cheese - of course!
Take a look at the collection on the Funko website.
Gears of War
A collection to celebrate 10 years of the Gears of War gaming franchise. This second wave of Gears of War Funko Pops includes some of the games most iconic characters.
Examples include Old Man Marcus, Dominic Santiago, Damon S.Bairdm Augustus Cole and a fierce 6" Brumak Pop figure!
See the figures themselves on the Funko website.
Others from the Toy Fair
Other Funko Pop collections announced at the Toy Fair include: Naruto, Overwatch, Reservoir Dogs, Pars & Recreation and Mass Effect: Andromeda! Keep an eye on the Zatu Games store over the next few months to see which of these stunning pops make an appearance.