Valeria: Card Kingdoms
Pay in 3 interest-free payments on eligible purchases.
Learn more
Success! We will let you know when this product is available again.
Your email address has been unsubscribed!
Your email address has been unsubscribed!
Notify me when this product is available to purchase!
This email address is already subscribed to this product!
The land of Valeria is under siege by hordes of monsters. You and your fellow Dukes must recruit citizens and buy domains to build up your kingdoms and slay the foul creatures that lurk in the surrounding lands. Valeria: Card Kingdoms is a tableau-building game for 1-5 players and will feel familiar to deck-building fans. The cards you buy can work for you on your turn and on all the other player turns, as well. On your turn, roll two dice and activate citizen cards with the result of each individual die and the sum of both dice. Other players will simultaneously activate their citizen cards based off of the roll. Next, take two actions from the following: slay a monster, recruit a citizen, buy a domain, or take 1 of any resource. The player with the most victory points at the end wins the game.
I have fond memories of Machi Koro, as one of my early purchases it was a marvel. My group took to it, and even my wife got involved. Then later on I played it again, after I was more indoctrinated into this cardboard fetish of ours, and it fell flat. I needed a couple of numbers to come up and they never did, my whole strategy and indeed game blown on the luck of the dice. I was done.
Then carried on the wind I heard whispers of the far off land of Valeria: Card Kingdoms, an alleged Machi Koro Killer that was more generous with it's luck. Could this be true? Could my early feelings be rekindled into new love? Have I been reading too many trashy romance novels?
Valeria: Card Kingdoms
Valeria: Card Kingdoms comes with a lot of cards; Dukes (end game scoring bonus'), exhausted cards, starter cards, citizen cards, monster cards, domain cards and player aids. On top of this, there is some nice wooden resources representing attack, gold, magic and victory points and two chunky dice.
The rules are clear, well laid out and get you going with minimal fuss, especially if you have played Machi Koro. However, there is a lot to set up. The main focus is the monsters, citizens and domains. Five monster card stacks are laid out in a row, under this are two rows of five citizen card stacks. The citizens are essentially your buildings from Machi, they have a number at the top related to the dice.
Purchased citizens are placed in your tableau and activate when their number comes up. They go from 1-8 and then there is a citizen with both nine & 10 and one with 11 & 12.
Under the citizens go domains in stacks of two face down, one face up on top. Each player starts with a peasant (activated with a five) and a knight (activated by a six). The starting peasant and knight are the only citizen cards in the game that don't also have a role symbol. Domains require a role symbol and gold to purchase.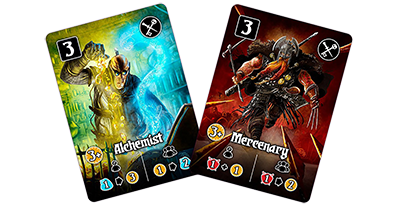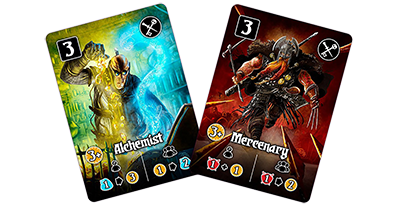 A Kingdom for my Cards
Players are also given some starting resources, and then the first player roles the dice. Here we find the first important improvement over Machi Koro - you activate citizens that display both rolled numbers and the sum of them. So if you roll two three's you activate your three citizens twice and the six citizen once.
The other massive improvement is all citizens have two activations, one that activates on your rolls, and one that activates on other player's rolls. This means you are always engaged and always earning resources. In the rare case none of your citizens activate you can take a resource of your choice.
After activating your citizens you get to take any two of four possible actions - Hire a citizen, Fight a monster, Claim a domain or take one resource. You are after victory points which come mainly from monsters and domains, and what ever targets your duke has set you. The end comes when you empty a certain amount of card stacks helpfully highlighted by exhaustion cards. This is usually twice the number of players but in higher player counts can be sooner. At the end of the game the player with the most victory points wins.
Roll Your Cards Right
Dice rolling is great, what makes it better is your dice rolling achieving something. Valeria: Card Kingdoms makes you feel all sorts of powerful as the citizens you have gained earn your a plentiful bounty of resources. The danger with this is that with all this power, you miss the subtle level of strategy. To some degree you can almost get any citizen or defeat any early monster within a couple of turns, but if you neglect to think about combos, and how you build your tableau, you are missing out.
Valeria: Card Kingdoms is also a generous game, letting you collect on opponents turn, and roll two dice right from the start. This all means you are instantly in the thick of it, racing for the best cards with the other players.
The base game also contains loads of cards, including two versions of every citizen, plenty of monsters and more than enough domains to make no two games the same. As you are involved in others turns the game goes a long at a fair old clip, and clocks in at around an hour for four players.
The set-up is fairly consuming although straight forward, and there is a lot of iconography. Daily Magic are excellent when it comes to player aids though and Valeria is no exception. Don't be put off by the seeming resource shower, or iconography instead hire some citizens roll some dice and let the fun begin.
You might like
Brilliant art work and components.
Fun and simple gameplay.
Hidden depth though still on the lighter side.
Quick to learn and play.
Generous gameplay rewards all players.
Might not like
Deeper gameplay hidden under the plentiful resources.
Set up and icons can be daunting initially.